Whitening & Bleaching
Pigments from our daily foods slowly work their way into our tooth structure and as time goes by the cumulative affect is to darken and yellow the teeth. The process of whitening, or bleaching, can be used to erase these stains and return teeth to their unstained shades.
Patients can choose between at home whitening or in office treatment. We start by recording the initial shade of the patient's teeth. Custom trays can be fabricated for wear at home and the appropriate Opalescence gels are provided to best suit the patient. This technique gives patients control of the progress and they can stop treatment once they have achieved their desired shade. We use the initial shade measurement to track progress.
In office whitening is performed with Zoom. This process involves a one time office visit during which high intensity blue light is used to activate a bleaching gel coating the teeth. Some patients choose to pair this with at home trays.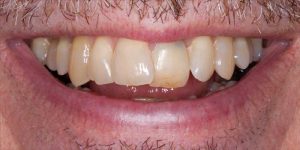 Before Teeth Whitening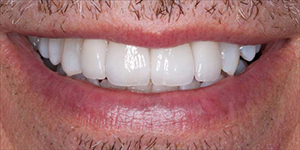 After Teeth Whitening
Initial Consultation:
A perfect smile starts with a private consultation with Dr. Geen. Take the first step and request a consultation now.
Thank You
We have received your form submission and appreciate your feedback. If you have any additional questions or comments please feel free to contact us directly.
We hope to see you again soon!
Look What People Are Saying:
I am so impressed with your kindness, hospitality and talent. The world would be a better place if all doctors were this way. I have waited 35 years to fix my teeth. Words cannot express how happy I am with renewed confidence to SMILE! Thank you
Janel
Dr. Geen is a very talented dentist who takes pride in her work. I am so happy we have finally found a NYC dentist we like
Jennifer H.