Cleaning & Exams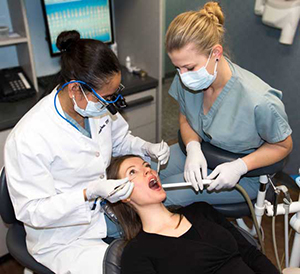 Whether you live in Gramercy and are walking over, or are commuting in from overseas, we love helping you take care of your mouth. Some of our patients are simply looking to maintain their healthy mouths, while others know of problems they want to have fixed. Our team of dental healthcare professionals are committed to tailoring personal care to your individual needs. We take pride in our thorough cleanings and our precise restorations, all delivered with a gentle touch and a smile. Let us know how we can help you.
The two most important steps in keeping your mouth healthy are maintaining good homecare and being seen routinely for professional teeth cleanings and oral examinations. We proudly remain active in both of these components. By reviewing techniques, the use of any products and providing helpful tips that can be implemented at home, we are able to assist our patients with their homecare habits and routines. This becomes the foundation for our patient's preventative dentistry.
Professional dental cleanings in our office allow us to monitor the progress of our patients and track their periodontal health. In addition to returning the teeth to their clean and healthy state, we are able to thoroughly examine their condition as well as the health of the soft tissue in the mouth. Digital radiography is used to visualize areas between the teeth that cannot be seen clinically. Any restorative needs can then be identified and addressed as necessary.
Initial Consultation:
A perfect smile starts with a private consultation with Dr. Geen. Take the first step and request a consultation now.
Thank You
We have received your form submission and appreciate your feedback. If you have any additional questions or comments please feel free to contact us directly.
We hope to see you again soon!
Look What People Are Saying:
I am so impressed with your kindness, hospitality and talent. The world would be a better place if all doctors were this way. I have waited 35 years to fix my teeth. Words cannot express how happy I am with renewed confidence to SMILE! Thank you
Janel
Dr. Geen is a very talented dentist who takes pride in her work. I am so happy we have finally found a NYC dentist we like
Jennifer H.