Dr. David Geen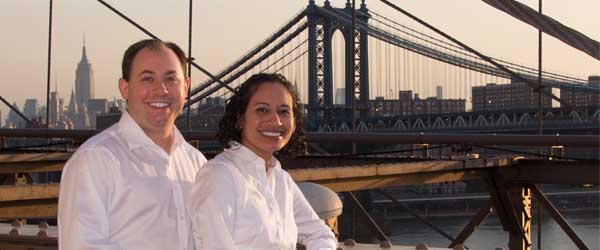 David & Natasha Geen
Born in Manhattan and raised in Brooklyn, Dr. David Geen is a proud graduate of Stuyvesant High School. After receiving his Bachelors Degree at the University of Rochester, where he studied Architectural Art History and Biology, he was awarded the Take Five Scholarship and spent a year studying structural engineering of biomechanical and manmade structures. Dr. Geen received his DDS at the University at Buffalo, School of Dental Medicine. Upon graduation Dr. Geen was the recipient of the American Academy of Esthetic Dentistry Award. He then went on to the VA Hospital Western NY where he completed his General Practice Residency, and was one of the doctors developing a protocol for CT Scanning prior to the placement of dental implants. Dr. Geen has been in private practice in Manhattan since 2005.
As one of the founders of Imagine Smile Design, Dr. Geen is able to focus on Aesthetic and Restorative Dentistry. He enjoys applying his multidisciplinary background to the art of smile design. Dr. Geen is a member of the American Academy of Cosmetic Dentistry, American Dental Association, and New York County Dental Society.
Both Natasha and David are especially grateful for having met while they were achieving their DDS degrees in Buffalo. They are the proud parents of twins.
Initial Consultation:
A perfect smile starts with a private consultation with Dr. Geen. Take the first step and request a consultation now.
Thank You
We have received your form submission and appreciate your feedback. If you have any additional questions or comments please feel free to contact us directly.
We hope to see you again soon!
Look What People Are Saying:
I am so impressed with your kindness, hospitality and talent. The world would be a better place if all doctors were this way. I have waited 35 years to fix my teeth. Words cannot express how happy I am with renewed confidence to SMILE! Thank you
Janel
Dr. Geen is a very talented dentist who takes pride in her work. I am so happy we have finally found a NYC dentist we like
Jennifer H.